The Push for Reengineering
Companies have turned to reengineering as the response to being customer focused, given the rise in the shift from a producer controlled market (supply push) to a customer ruled market (demand pull). Companies are more attuned to the significance of business process and its management. This has evolved from merely seeing process management as the documentation of processes and procedure manuals.
Instead of simply having functional and data silos, the concept of process should be at the center of business strategy. As reengineering pioneer Michael Hammer put it in an article in the Harvard Business Review, there is a growing wave of process innovation and radical business process change, from the traditional "task based" organization of work. Many companies are tempted to feel that they have already reengineered, reinvented, mapped, analyzed and improved every aspect of their operation, but deep down know that they have only barely started. Reengineering provides a platform for the necessary change. But in practice, tend to create a discontinuity between "as is" and "to be" states of the company, which can only be achieved by intensive projects of organization changes and new systems implementation.
Today, the advancement of enterprise resource planning (ERP) applications gives new visibility to business processes and focus attention on how to control an organization's behavior based on a shared data model. These developments increase business process visibility but also expose the growing disconnect between business requirements and Information Technology's (IT) ability to deliver working systems. It is not uncommon that individual business application address the business needs for a specific department or role, without any sense of the end to end business process that they form a part of. This often results in employees devising workarounds to keep the process going, fixing the business-IT gap by manual forms, reports, telephone calls, emails and meetings. All these actions skirt the IT domain and over time, becomes habitual work patterns and practices that are crucial for a process to operate.
Process Excellence Methodologies
We have applied process excellence methodologies that includes lean and six sigma, and such tools that are already proven in manufacturing have been adapted to many other industries with equal success. These also include: 5S, Kanban, Kaizen events, quick setup/changeover, Poka Yoke, Visual Control and Five Whys.
IOT has worked with multiple clients on business process mapping and reengineering work. Contact us to find out more!
---
Illustration I : Business Process Mapping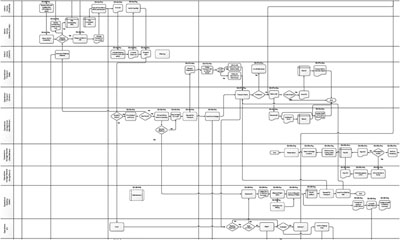 Illustration II : Standard Operating Procedures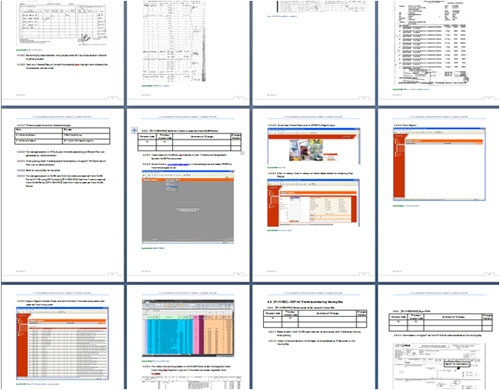 Illustration III : Value Stream Mapping