IOT's Change Management Programme (CMP) is a proven approach to develop, deploy and enable transition in order to facilitate awareness, acceptance and adoption of organizational excellence programmes and initiatives. It provides a clearly defined structure, framework and methodology for delivering ongoing communication and through involvement of the members of the organization affected by the transition.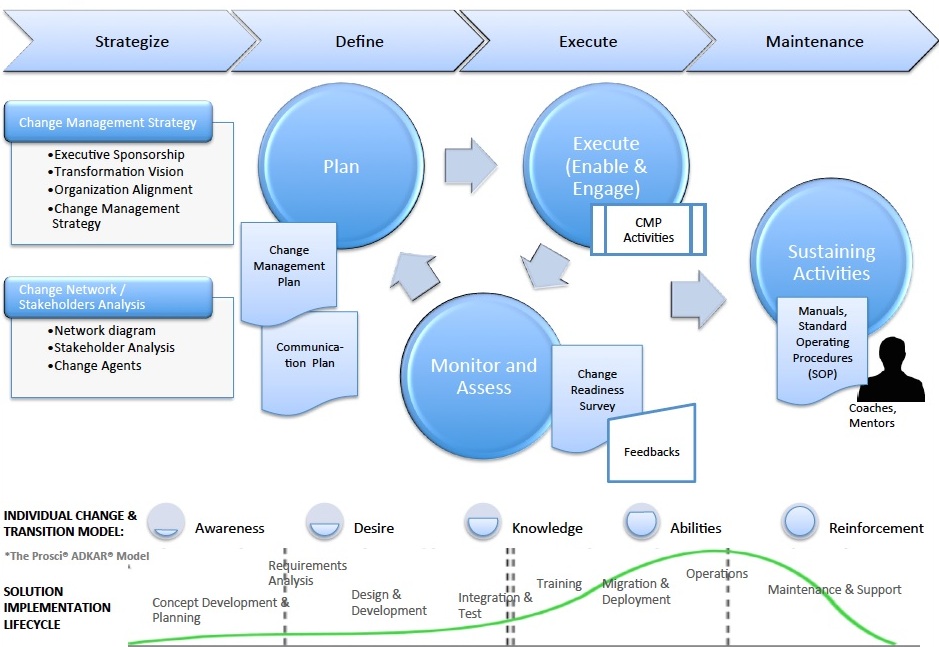 The goal of the IOT's CMP is to ensure that change management and communications effort are in place to align executive leadership in order to build commitment, manage the changes, and enable the organizational transformation to support the change. Achieving the change management objectives will help JTC implement the changes necessary to realize the vision for the transformation, achieve the desired results, and realize the long-term benefits of the programme more effectively . The Change Management Programme (CMP) objectives will be to:
Ensure Effective Change Leadership
Identify, Develop and Sustain Accountibility & Responsibility
Align Employees Objectives for Change
Address Concerns and Improve Change
Gain Acceptance of Change
Sustain Change
The CMP adopts the ADKAR® Model to guide change management activities and manage resistance to change. The key to the model's success lies in its simplicity and its ability to capture the essence of individual change and the desired outcomes.
The model provides a simple and action-oriented framework for taking control of change. Effective Change Management requires control of five key building blocks that form the basis of the awareness, acceptance and adoption model. Individuals make changes successfully when they have achieve necessary Awareness, Desire, Knowledge, Ability and Reinforcement. The CMP will ensure that stakeholders have the outcome-orientation in order to enable successful personal transitions and achievement of organizational results. The five key building blocks and change elements are:
Awareness of the need for change
Desire to participate and support the change
Knowledge on how to change
Ability to implement required skills and behaviors
Reinforcement to sustain the change